The MCC team is back with January's edition of Adnews Monthly!
 News#1: New Adfast team members
The Adfast family is growing! 5 new people have joined the team in the last few weeks!
MONTREAL


Caroline Cyr


Customer Service Agent

Frangelus Nzati


Adclean Production Team Manager

Pedro Makengo 
Silicone Packaging Operator
Aymen Boudabbous


Machiniste Adfast Grommeting

Maher Omri
Ajuster-Assembler Adfast Grommeting
OUR HAPPINESS MANAGERS
Vice-President of laziness
Directors of Meowing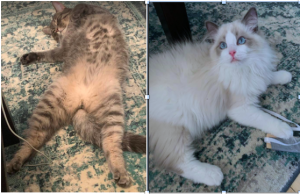 Congratulations and welcome to the team!
 News #2: New product, Adseal Wet Wipes! 
Adfast is launching a new line of Adseal Wet Wipes in 2021.
These cleaning wipes remove uncured adhesive on tools & surfaces. They are sold in containers of 90 wipes (second product below), have a light fruity scent, are allergen-free, and will be available in 8 to 12 weeks.
News #3: Adfast is now a proud AEMQ member
Adfast is proud to join the AEMQ (Quebec Association of Masonry Contractors). The members of the AEMQ constitute a strong, autonomous and independent group that advocates on behalf of its members.
This collaboration will increase our visibility among our Quebec customers!
We hope to join many such associations in other Canadian provinces and US states in 2021 to increase our partnerships, visibility, and recognition outside of Quebec.
 News #4:  Adfast Technical Webinars given to Architects
Our Pardot email webinar invitations allow us to reach many architects and construction professionals. In December, a total of 132 architects attended our webinars. This visibility and expert testimony often result in our products being added to architectural master specs, and thereby in the use of Adfast products in multiple North American construction projects.
Congratulations to our sales team!

 News #5: Adfast in the Media
America training solutions (ATS) 
Adfast is featured in an ATS Seminar article. ATS is an important association that offers LEED continuing-education seminars to architects and that helps us extend the reach of our technical webinars to large amounts of North-American professionals. The article we are featured in discusses how we transformed our production facilities fto manufacture Adclean hand sanitizer and Adshield safety visors to help fight COVID-19.
The article was published in the ATS newsletter as well as on their website, which are accessible to over 100,000 North American architects.
Sectorial Association Manufacturers of Transport Equipment and Machines (ASFETM)
A few pages are dedicated to Adfast in ASFETM magazine. The article focuses on the actions deployed by our Health and Safety Committee to maintain a safe work environment. We even appear on the cover page!
We'd like to thank our health & safety team for their wonderful work!
 News #6:  Admobile stores on wheels 
We were pleased to serve our first customers with our new Admobile sprinter vans right before the holidays !
Interior shelving is now installed inside our Montreal and Quebec city Admobiles.
Exterior artwork is also complete!
 News #7: Adfast Montreal renovations 
Adclean factory facelift
Investment of $498,000 in our co-development laboratories
Our new polymer laboratory
New product development laboratory
Robots will be used to apply sealants and adhesives in order to test new products in customer applications. Customers will be invited to test products with our Sales and R&D teams.
 News #8: Evolution of the color matching program
We are proud to offer our clients customized products that meet their specific needs.
In 2020, the number of sealant colors developed in our laboratories has increased considerably.  
Great work color team ! 
2018
2019
2020
In this short video, watch how our products are custom developed and manufactured for our customers.
 News #9: New construction project
​​​​Our Adseal 4600 silicone sealant will be tested in the glass ramps of Roy Thompson Hall in Toronto in collaboration with ELY's Glass. Sadly, some of these ramps fell 15 feet last month with a competitor's product. The Adseal 4600 will be tested after the mechanical attachment of the railings. We will inform you of the results as soon as possible.
News #10: Evolution of our sealant color charts
 News #11: New Adfast videos