The MCC team is back with February's edition of Adnews Monthly!
 News #1: New Adfast team members
The Adfast family is growing!
3 new people have joined the team in the last few weeks!
NEW EMPLOYEES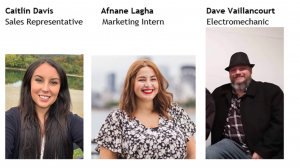 Callie – Winter fun Representative

Congratulations and welcome to the team!
 News #2: Adfast Work Anniversaries
We'd like to celebrate our loyal and dedicated team members! Thank you for being exceptional members of the Adfast family for so long.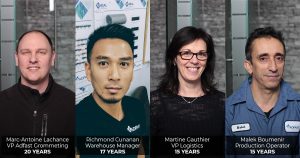 News #3: Adfast Florida celebrated its 20th anniversary!
We would like to thank Paul Dubois and Javier Morales for taking care of our customers and growing our sales and presence in the United States. Florida has been leading in sales growth for the last few months. Great job!
News #4: Launch of our Adfast online commerce site 
Our e-commerce platform was launched last month! We sent an email to all our customers and contacts and advertised it on our social media. Ever since, 325 customers created an account and over 76 orders were placed online. More to come!
 News #5: Adfast in the media
Center of Productivity and Prosperity (HEC Montréal University)
Adfast provided expert testimony in an article focused on automation and digital transformation.
​​The article highlighted the key factors related to our success.
The edition made its way around Quebec and ever since newspapers have been writing additional articles!
Congratulations to all! We are gaining in visibility.
 News #6: PolySTAR Project
We met a group of engineering students from the Montréal Polytechnique University who launched the PolySTAR project, which aims to democratize robotics in primary and secondary schools.
They are interested in Adfast due to our production lines, automated processes, and upcoming robotics department. Adfast is positioned as one of the most advanced players in the development, production, and robotization of adhesives, sealants and fasteners. We should be proud!
Adfast will invest in their University projects and in turn the students will be interns in our various departments.
We invite you to visit POLYSTAR's website and YouTube channel !
 News #7:  Adfast IT/OT Projects
What is IT/OT?
It is the integration of information technology (IT) and operational technology (OT) systems. IT systems are used for data-centric computing; OT systems monitor events, processes and devices, and make adjustments in industrial operations.
Special Sealants (SS) automation:
A further step in automation was taken in the Special Sealants (SS) department, where we manufacture 1940, 1070, 1090, 5635, and 5645. Batching (mixing) is fully automated: transfer of raw materials, temperature cooling, pressure management, mixing time, and control of production steps. Only the transfer of a very few raw materials and quality control remains manual.
Barcodes printed directly on cartridges in Silicone production:
Satisfying the expectations of our most demanding customers is one of our values. Our SIL E1 multi-doser production line, where we manufacture 4580, 4500, 4200, and 4600 is now equipped with a barcode printer. This allows us to print UPC codes (scannable in-store) on our products, rather than have them printed by suppliers on our cartridges in advance, or worse, stick labels by hand.
We're jacking up power in the Silicone production department!
In anticipation of the installation of the new (3rd) silicone mixer and the new silicone powder raw material transfer systems to further automate silicone production, we installed a 1000 Amp to 600 Volt underground electrical sub-distribution in a new electrical room. That's enough power to supply over twenty houses.
New Gas Chromatography equipment:
This system allows us to quantitatively measure the composition of volatile liquid mixtures. It will be used in the development of primers, ADCLEAN products, and raw materials, as well as to calculate VOCs.
What are VOCs?
Volatile organic compounds (VOCs) are chemicals incorporated in many commercial & industrial products that are dangerous to human health or that cause harm to the environment. Adfast's mission is to develop the safest products for our customers, employees, and our environment.
New Steric Exclusion Chromatography System:
It will be mainly used by R&D for the development of a new range of polyurethanes (5635, 5645, etc)
 News #8:  Technical Webinars given to Architects
In January, 43 architectural firms attended our Adfast technical webinars. Our expert testimony often results in the addition of our products on architectural master specifications and, as a result, the use of Adfast products in many North American construction projects.
Congratulations to our sales team!